laboratory Pharma Machiner & Reactor
A wide range of Process machinery is created by the Company based in Ahmedabad, India. With an ever increasing presence in the Process Machinery for Laboratory and Pilot scale line for Powder, Liquid and Ointment processing for Research and Development of Pharmaceuticals, Biotech, Nutraceuticals, Cosmetic, Foods, Dairy, Bakery, Confectionery, Agro Chemical, Chemical, Ayurvedic & Herbals, Paint, Ceramics, Catalysts and Pharma Institutes. The company is known for innovative manufacturer for processing system for drying, granulating, mixing, milling, size reducing, blending, tabletting coating, pelletizing, pellet coating, stirring, homogenizing, Vacuumised mixing, filtration, evaporation, containment, material conveying, cleaning and fermentation as well as process integration and process automation service.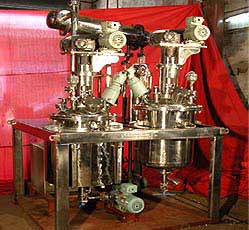 Lab Reaction Vessel
Lab Pilot plant for Resin, Phamra manufacturing.