Resin Chemical Plants
Resin Plant are one of the very useful and productive industrial equipments which are used widely in several regions of the country and are hence in very much demand in the market. Our company is one of the most renowned and reputed companies which are providing its clients one of the finest grade industrial Chemical process equipments and hence these resin plants also have been designed in most excellent manner at our company. These resign plants are widely used for the manufacture of several kinds of industrial paints and emulsions and coating materials..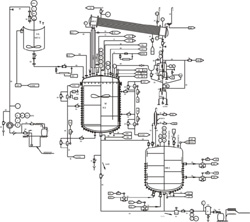 Resin Plant
Chemical Resin plants are one of the most exclusive quality products of our company which we are not only manufacturing extensively but also are supplying and providing the services for their installation in almost all the regions of the country. These chemical plants have been specially designed for the processing and manufacture of all the kinds of chemicals which are required for the use in the industrial processes. These chemical plants are used and appreciated in almost all the regions of the country and are widely in demand in several chemical and pharmaceutical industries.
Features:
Excellent construction
Reliable and safe utilization
Long lasting
Low consumption
Low maintenance
Easily affordable
Specifications: Material: Stainless steel of grade SS304 and SS316 Size: Client Specific(Customised)