High Speed Disperser
The
Disperser
range is designed to disperse , mix and homogenise products of different Technologies Differentversions and accessories are available to accommodate thixotropy,aeration requirements etc of the product: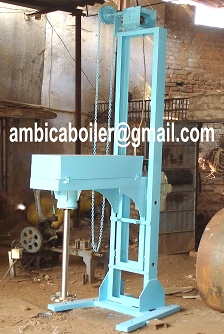 * Automatic speed control system
* Different designs of mixing impellers
* High and Low variable speed
* Process vessels restrining grasps or belt system.
* Rotary process vessels with scraper Blade.
* Vacuum cover.
* Electrical control panel attached either to the
machine or remotely installed.

MODEL

MAIN MOTOR

LIFTING MOTOR

SPEED RANGE

INTER
CHANGEABLE
DISC

WEIGHT

SHELL TOTAL
CAPACITY

ABFHSD 7.5

7.5

1

800-1500

150-200

600

250

ABFHSD 10

10

1

800-1500

150-200

600

250

ABFHSD 15

15

1

800-1500

15s0-200

625

375

ABFHSD 25

25

2

535-1500

250-285

1000

700

ABFHSD 30

30

2

535-1500

250-285

1100

800

ABFHSD 40

40

2

370-1200

325-390

1500

1000

ABFHSD 50

50

2

370-1200

325-390

1700

1250